Feelaware

is a trusted professional group
that considers customers' value as a priority.
About Feel@ware
Based on experienced IT development technology and system operation know-how, Feelaware Co., Ltd supports the overall IT service to maximize the value of customer enterprises and enhance competitiveness by realizing new knowledge creation in various business areas. As a Premier Partner of virtualization solution vendors, we are positioned as the best technology partner and aim to be the best technology leader in the B2B business market based on virtualization and security solutions. In a rapidly changing IT environment, Feelaware Co., Ltd is constantly striving to provide satisfaction and impression to our customers.

Company information
Company
Feelaware Co.,Ltd.
Date of Establishment
January 14, 2010
CEO
Kim Yun-cheol
Business Areas
Virtualization Business, Technical Support, Resident Operation Service
Major Products
SmartCloudPortal, SecureFileTransfer
Main Phone Number
02-465-5636
Address
Head Office : #603-605, Seoul Forest Kolon Digital Tower II, 27 Seongsui-ro 7-gil, Seongdong-gu, Seoul, Republic of Korea Hwaseong Technical Support Center : #723 Wonhee Castle Center, 14, Seocheon-ro 201beon-gil, Giheung-gu, Yongin-si, Gyeonggi-do, Republic of Korea USA Corporation : 13501 Katy Freeway Suite 1625 HOUSTON TX, USA 77079
China Corporation : Room No.2-20303, Qiyuanjinyue Building, 36 Jinye-road, High tech Zone, Xi'an, P.R.C. 710065
CEO Greetings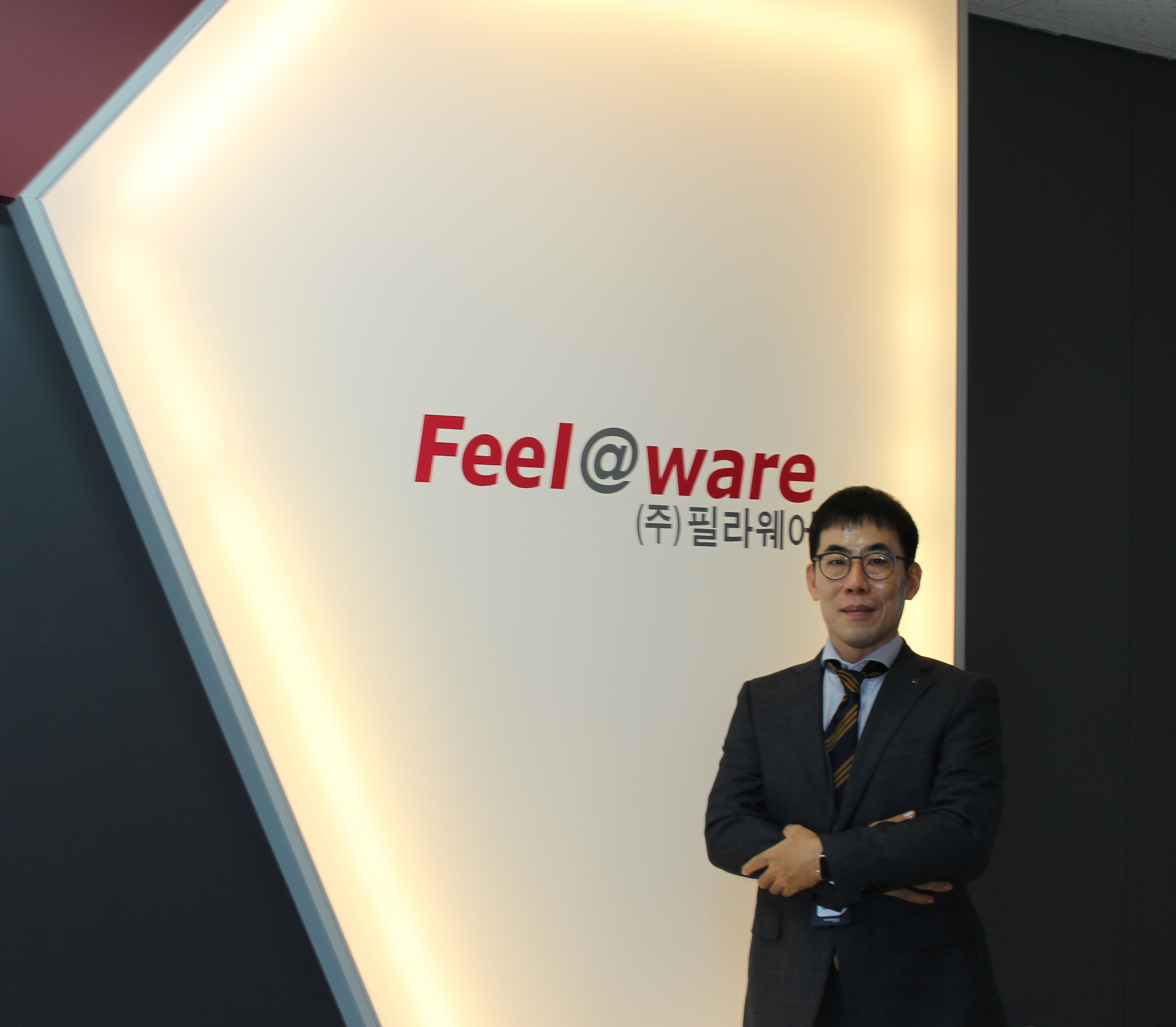 We will strive to become a company that is loved and respected.
Greetings! I am Kim Yun-cheol, CEO of Feelaware. 
I am confident that our company, which started with a mission called transition to Cloud Computing Solutions in 2010, has been at the forefront of cloud computing solutions throughout 2017. Now, in 2018, we will begin a transition for the future with the mission of becoming a cloud service provider.
Leaving the past 20 years of distributed computing, cloud computing behind, we will meet the expectations of our customers, partners and shareholders as a global leader creating services and business models in the era of the fourth industrial revolution in the future.
Thank you. 

History
2020

01.VMware Partner Award 2019 Winner 'Best Partner of the Year' by
VMware
03.Established USA Corporation - 13501 Katy Freeway Suite 1625
HOUSTON TX, USA 77079

2019

02.Obtain a patent (No. 10-1946862) - Virtual desktop/virtual application
environment management system based on user personnel
information

03.Registered trademark (No. 40-1458029) - SmartCloudPortal

03.Established Xi'an Feelaware Information Technology Co.,Ltd.

12.Selected a 'Young people-Friendly Small Giants Company' by
Ministry of Employment and Labor


2018

03.Hwaseong Technical Support Center open - #301-3, Inamass Green
Bldg., 354-28 Dongtanwoncheon-ro, Hwaseong-si, Gyeonggi-do
04.Feelaware won the VMware APJ Partner Award 'End-User Computing
Partner of the Year'
08.expansion of head office - #603-605, Seoul Forest Kolon Digital
Tower II

09.Selected a 'Good Company to Work' by Korea Credit Guarantee Fund

11.Won the win-win partnership award from Samsung Electronics DS division

12.Won the 'best partnership prize' of Lotte Card


2017

01.

VMware Partner Award 2016 Winner 'Mobility Partner of the Year'

05.

VMware Partner Innovation Award 'Digital Workspace' sector APJ Best Partner Award

2016

03.

Moved to a larger head office – #604-605, Seoul Forest Kolon Digital Tower II

03.

Obtained VMware Premier Partnership Eligibility

2015

11.

VMware Partner Award 2015 Winner 'Best Enterprise partner' award

2013

04.

Concluded Dell Partner Direct Channel Partner contract

2012

02.

Acquired venture business certification

12.

Acquired EMC Reseller Partnership

2011

01.

Established affiliated research institute [Authorization No. 2011112358]

11.

VMware Partner Award 2011 Winner 'Best Engineer of The Year 2010' award

2010

01.

Established Feelaware Co.,Ltd.

11.

Obtained VMware Enterprise Partnership Eligibility
CI
Word mark
English

Korean + English
Color specification
Red / Gray

Black
Exclusively used color
Main Color 1

PANTONE 207C
C 0 + M 100 + Y 40 + K 30

Main Color 2

PANTONE Cool Gray 7C
C 0 + M 0 + Y 0 + K 50

Main Color 3

PANTONE 426C
C 93 + M 88 + Y 89 + K 80
Location Map
Head Office

Address(04780) #604-605, Seoul Forest Kolon Digital Tower II, 27 Seongsui-ro 7-gil, Seongdong-gu, Seoul, Republic of Korea
Contact numberTEL 02-465-5636 / FAX 02-464-0250
TransportationSubway Line 2 Seongsu Station Exit 4 (About 10 minutes on foot)
Hwaseong Technical Support Center

Address#723 Wonhee Castle Center, 14, Seocheon-ro 201beon-gil, Giheung-gu, Yongin-si, Gyeonggi-do, Republic of Korea
Transportation

Take a bus H1, 13-5, 63, 92-1 and get off at Samsung Semiconductor Back Door stop - 5 minutes on foot
Take a bus 5-2, 202, 720-1, 721 and get off at front of Big Market - 6 minutes on foot